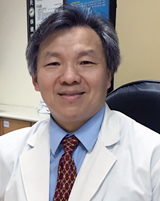 ■ Secretary-General / Chia-Yen Dai
Mail: d820195@kmu.edu.tw
Extension: 2101/2102/2103
■ Job Description
1.  Supervising and coordinating affairs of all units.
2.  Tracking and checking the progress of special cases and restricted affairs.
3.  Managing affairs related to the Secretariat.
4.  Handling duties assigned by the President and Vice Presidents.
5.  Assist to push and plan the school's activities and policies from the President and Vice President.
2003-2005   Assistant Professor, School of Medicine, College of Medicine, Kaohsiung Medical University, Kaohsiung, Taiwan

2005-2009   Associate Professor, School of Medicine, College of Medicine, Kaohsiung Medical University, Kaohsiung, Taiwan

2009- now   Professor, School of Medicine, College of Medicine, Kaohsiung Medical University, Kaohsiung, Taiwan

2018- now   Joint Appointment Professor, Department of Biological Science and Technology, College of Biological Science
                    and Technology, National Chiao Tung University, Hsin-Chu, Taiwan
1993  M.D. Kaohsiung Medical University, Kaohsiung, Taiwan

1999  Master in Medical Science, Institute of Medical Science, Kaohsiung Medical University

2008  PhD. in Medical Science, Institute of Medical Science, Kaohsiung Medical University
1993   National Medical Board of Republic of China

1996   Board of Internal Medicine, R.O.C.

1998   Board of Gastroenterology, R.O.C.

1999   Board of Critical Care Medicine, R.O.C.

1999   Board of Digestive Endoscopy R.O.C.

2004   Board of Occupational Medicine, R.O.C.

2015   Board of Liver Cancer, ROC
1998-           Attending Physician, Division of Hepatology, Department of Medicine, Kaohsiung Medical University Hospital

1998-1999   Attending Physician, Department of Medicine, Kaohsiung Municipal Hsiao Kang Hospital

1999-2000   Attending Physician, Department of Emergency Medicine, Kaohsiung Municipal Hsiao Kang Hospital

1999-           Attending Physician, Department of Occupational Medicine, Kaohsiung Medical University Hospital

2003-           Attending Physician, Department of Internal Medicine, Kaohsiung Municipal Hsiao Kang Hospital

2003-2007   Chief, Department of Occupational Medicine, Kaohsiung Municipal Hsiao Kang Hospital 

2007-2009   Chief, Department of Occupational Safety and Health, Kaohsiung Medical University Hospital

2007-2009   Secretory, Kaohsiung Medical University Hospital

2009-2011   Medical Secretary, Kaohsiung Medical University Hospital 

2007-2017   Chief, Department of Occupational and Environmental Medicine, Kaohsiung Medical University Hospital

2007-           Chief, Health Management Center, Kaohsiung Medical University Hospital

2018-           Chief, Department of Community Medicine, Kaohsiung Medical University Hospital

2018-           Chief Secretary, Kaohsiung Medical University

2018-           Dean, Office of Library& Information Service, Kaohsiung Medical University
1993  Society of Internal Medicine, R.O.C.
1996  Gastroenterological Society of Taiwan
1998  Society of Ultrasound in Medicine, R.O.C.
1998  The Digestive Endoscopy Society of Taiwan (R.O.C.)
1998  Society of Emergency & Critical Care Medicine, Taiwan, R.O.C.
1999  Taiwan Society of Critical Care Medicine.
1999  Environmental and Occupational Medicine Association, R.O.C.
2004  Taiwan Association for the Study of the Liver (TASL), ROC
2013  Taiwan Liver Cancer Association (TLCA), ROC
2014-2016  Asian Pacific Association for the Study of the Liver (APASL) (MN-1594)
2014-2016  International Liver Cancer Association (ILCA) (ID number: 104356)
2016  European Association for the Study of the Liver (EASL) number (ID:43248)
2018  AASLD American Association for the Study of Liver Diseases (Member 

Number: 110057)
1.  Epidemiology of hepatitis B and C virus infection in Taiwan
2.  Treatment of hepatitis B and C
3.  Extrahepatic manifestation of chronic hepatitis C including renal diseases, thyroid diseases etc.
4.  Molecular epidemiology of GB virus C/hepatitis G virus and TTV infection in Taiwan
5.  Nature course, treatment and molecular biology of HCC
6.  Medical Genetics
7.  Contrast echo image